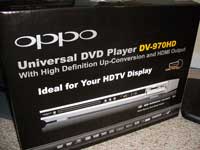 As expected, the new Oppo player came very well packed, with a black protective cloth over the player and plenty of foam padding. The package includes the player, User Manual, remote, batteries, stereo audio & composite video cables, power cord and HDMI cable. A handy Advanced Setup Guide which was co-developed by Oppo Digital and Audioholics can be downloaded from Oppo's website.
The physical units look remarkably similar - at least at first glance. A closer examination shows that, while they share the same general shape and tray layout, the DV-970HD has a more integrated, refined look to it. All three DVD navigational controls are now round buttons located to the immediate right of the tray. The readout is amber and there is a manual door located at the right of the unit which houses a USB connection and 4-in-1 flash memory card reader. The rear inputs are identical to the OPDV971H except the DVI-D connection has been replaced by an HDCP-compliant HDMI output connector.

Either the Power, Open/Close, or Play/Pause buttons will wake the unit from Standby mode and if you power down the unit while the tray is open it will retract the tray into the player, protecting the disc and transport. This is a big improvement over the OPDV971H and is the behavior we expect to see from all DVD players.
Internal Components
There's not much to say about the build quality of a budget universal player with a low profile. There's only so much room in the box and you have to fit in a modest power supply, transport, video and audio board. The new DV-970HD utilizes a MediaTek 1392(E) chip which handles deinterlacing, scaling and video processing for the player. This time around, video processing is applied to both the component and HDMI inputs, though the component video outputs will only do HD 720p/1080i upconversion for content which is not CSS-encrypted (i.e. home movies.) The transport is the same think plastic drive system we saw before on the OPDV971H, and though it appears rather cheap, it has yet to break on us.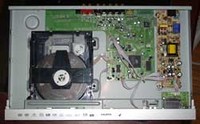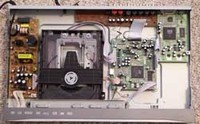 The DV-970HD (left) layout differs quite a bit from the OPDV971H (right)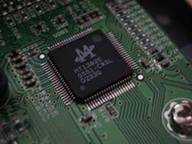 The new player has a single board for inputs, audio and video (both analogue and digital) processing. The power supply board was placed on the right as opposed to the left as in the OPDV971H. Gone is the distinct digital video board with Faroudja processing and you can note the new memory card reader at the front right of the unit. The MT1392E chip is a third-generation product containing the company's MDDi (Media Direct De-Interlacing) technology. It integrates six advanced 12-bit, 108MHz video DACs and also supports playback of DivX Pro MPEG-4 video.
Player Set-Up & General Use
You can refer to our review of the Oppo OPDV971H player for a more in-depth look at the menu system and setup features. Rather than rehash what we've already covered I wanted to establish that the menu systems are identical and then follow up with the SACD and DVD-Audio setup menu features. The options available for DVD-Audio include setting the player for audio or video mode (to determine which portion of a hybrid DVD-Audio/Video disc will be played. SACD options include setting the priority of disc playback for those discs which have both multi-channel, high-resolution stereo, and/or CD tracks on the disc.
During the course of testing the player, I brought it from my testing location to Reference System 1. Mistakenly I had forgotten to bring along the remote control. Without it, we quickly found that beyond pressing Play and Eject, the Oppo was severely crippled. Fortunately, we had a Logitech Harmony remote control nearby and were able to program it online with the player 舗 s functions. This simple experience taught me that it 舗 s not a bad idea to add navigation controls and a Menu button on the front of a player.
Analogue Bass Management and Distance Delay for SACD/DVD-Audio
Both SACD and DVD-Audio utilize the rather meager bass management and distance delay settings of the DV-970HD. Front, Center, and Rear speakers can be set to "Large" or "Small" (Center and Surrounds can be set to "Off" of course). The Subwoofer output can be set to "On" or "Off". Channel Delay can be configured in 4-inch increments. Unfortunately, setting delays is restrictive and involves a bit of math. To set the delay, simply subtract the distance of the various speakers (in inches) from the Main speaker distance relative to the listening position - the result is the amount of distance delay compensation that needs to be added to the Surrounds, Sub and/or Center Channel. You cannot configure the rear speakers or center channel as being farther away from the listening position than the Mains, however as there is no way to "add" delay to the main speakers and the system is not setup to work in absolute distance units. Overall, this makes the delay settings rather cumbersome (and useless for certain room configurations). Note the following supported and unsupported configurations: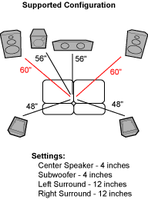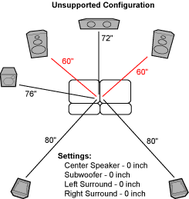 Because of this, our prediction is that many entry level users using the analogue multi-channel outputs will get frustrated and not correctly configure their systems. Channel trim settings are possible for each of the 6 channels in +/-0.5dB increments.
Remote Control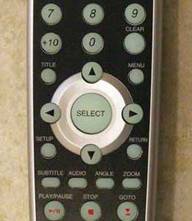 The remote is nearly identical to the new remote which ships with the OPDV971H DVD player. I reviewed it in our earlier Oppo Addendum article, so I won't go into much detail here, except to say I was greatly impressed that they went through the trouble of releasing an updated remote at all - especially given everything else that's packed into this player.
The new remote replaces/renames a few buttons, but nothing that would receive frequent use:
| | |
| --- | --- |
| OPDV971H | DV-970HD |
| EQ | Memory |
| Key (flat) | DVD/Card |
| Key (sharp) | Info |
| SF | PSM |
| PSM | Audio Only |
| DVI | HDMI |
Video and Audio Measurements & Testing
It was paramount that we compare and contrast the difference $50 makes in terms of the OPDV971H vs. the DV-970HD player. Right now, everyone is falling over themselves to get their hands on this new upconverting universal DVD player which seems to have broken all current price barriers. We used the Westinghouse LVM-42w2 display which was calibrated as close as possible to ISF reference standards. For the test and evaluation of the DV-970HD we used selections from Avia Pro and the Silicon Optix HQV Technology benchmark DVD test discs in addition to various test clips from popular movies.
All final test scores were derived using the Oppo DV-970HD 舗 s HDMI output in 720p mode unless otherwise specified.
Audioholics/HQV Bench Testing Summary of Test Results
Perfect Score is 130
Oppo DV-970HD Benchmark total score: 53/130 (This is an acceptable player, just watch out for some jaggies on larger sized screens)
Test

Max
Points

Results
720p

Pass/Fail

Color Bar

10

10

Pass

Jaggies #1

5

3

Pass

Jaggies #2

5

0

Fail

Flag

10

0

Fail

Detail

10

10

Pass

Noise

10

0

Fail

Motion adaptive Noise Reduction

10

0

Fail

Film Detail

10

10

Pass

Cadence 2:2 Video

5

0

Fail

Cadence 2:2:2:4 DV Cam

5

0

Fail

Cadence 2:3:3:2 DV Cam

5

0

Fail

Cadence 3:2:3:2:2 Vari-speed

5

0

Fail

Cadence 5:5 Animation

5

0

Fail

Cadence 6:4 Animation

5

0

Fail

Cadence 8:7 animation

5

0

Fail

Cadence 24fps film

5

5

Pass

Scrolling Horizontal

10

5

Pass

Scrolling Rolling

10

10

Pass

Total Points

130

53



All tests were done with the HDMI outputs at 720p. Any failed tests were checked in 480p as well.